Strathbogie Tableland Celebrating Local Community
---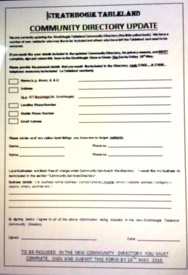 We are currently updating the Strathbogie Tableland Community Directory.
If you wish to be included or removed please complete the form with your details and leave it at the Strathbogie Store this week.  Click picture for a form to print or collect one from the Strathbogie Store.
---
The Strathbogie Tableland is located on an elevated plateau in the Strathbogie Ranges. Two hundred kilometres northeast of Melbourne, it is surrounded by forests, farmland and granite hills. The environment is beautiful with its native bush, birds and animals. Read our local community newsletter, Tableland Talk, to learn about the issues at the heart of our community. While many people have spent their entire lives on the Tableland, others are increasingly choosing to leave city life and move up to live here permanently. Access by car is easy (map). The Hume Freeway runs past Euroa, the nearest town (which can also be reached by bus and train), and the Maroondah Highway offers an alternative route from Melbourne.  Snowfields and rivers are close. Strathbogie remains somewhat hidden away but is a special part of the world. Take a tour of our site and find out why.
About the website
This website has been created by the STAG Communications sub-committee.  The original website was established with funding from the Strathbogie Shire.  It's a great way for residents and landholders to stay in touch and communicate with each other.  We may be a small and scattered community but, with increasing use of computers and email, this site offers the opportunity to keep informed about events, to comment about Tableland issues, to contribute ideas, to catch up with each other, to buy and sell, and to show off our creativity. Anyone can freely browse all the pages shown on the menu at the top.
About the Area
Strathbogie Tableland is part of the Shire of Strathbogie which also includes the communities of Avenel, Euroa, Longwood, Nagambie, Ruffy and Violet Town. Euroa Gazette is our local newspaper. Tableland Talk is the local newsletter.   Strathbogie Voices is a community organisation, for local political, environmental and social change. Information regarding the new Strathbogie Main Street streetscape can be found here. We welcome and encourage your feedback via email bogieweb@strathbogie.org