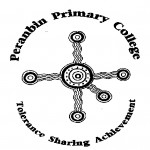 Campus Co-ordinator:     Jenna Barrett
Address:      Main St., Strathbogie, 3666
Phone:         03 57905250
E:mail:    peranbin.pc.strathbogie@edumail.vic.gov.au                               Website:  http://www.peranbinpc.vic.edu.au/
Peranbin Primary College is a multi-campus primary school with current campuses in Strathbogie, Violet Town, Swanpool and Baddaginnie.
---
ANZAC DAY IN STRATHBOGIE
Strathbogie Campus, Peranbin Primary College were proud to hold a commemorative event at the Strathbogie Hall for ANZAC day.
Local RSL members were in attendance and provided a guest speaker.
The children will be sharing their insights and responses to learning about ANZAC day.
A number of community members attended for the ceremony and morning tea afterwards.  The children in laying a floral tribute at the feet of the memorial statue in Main Street, Strathbogie.
---
Strathbogie campus currently has 23 students and two teachers, Jenna Barrett and Anne Fox. There is a shared Principal (Angela Holleran), a Music teacher (Joe Farrell),  an Art teacher (Suzie Bates) and PE teacher (Linda Weeks) and fortnightly visits from the mobile library. Barb Jennings manages the office.
literacy is the key to all learning and is a major focus in every classroom
our hands-on numeracy activities are an integral part of our daily program
our students are explicitly taught the social and emotional foundations and core values which lead to success in life through the Bounceback! program
a love of reading and the enjoyment of books is an important part of our teaching at Strathbogie
the children access a MARC van fortnightly and the children borrow books and have lessons related to literature
our school has a strong focus on the importance of physical health and well being
our music and art programs allow students to become creative and expressive individuals
we believe that a love of the environment is important.
classrooms are well equipped with laptops and ipads
we have a comprehensive Physical Education Program. Our students participate annually in swimming, cross-country and athletics.
junior students have senior room buddies to ensure a smooth and happy transition into school
students are involved in programs such as recycling, composting and Landcare
our school initiates and is involved in many community activities such as Anzac Day and 'Clean Up Australia' Day
we have a resident koala in our "koala tree" and if the season is suitable she has a baby.