The Strathbogie Cemetery Trust Open Day
Sat April 2 from 11am to 1pm.
Meet the trustees. Long serving trust members will be presented with certificates of appreciation.
If you are interested in some of the long history of the cemetery come along.
BBQ provided 
Please RSVP Michael 0409 03 1516.
---
The Cemetery
The Cemetery occupies 5 acres of ground on the Mt Wombat-Strathbogie Road, west of the township.  It is in a bushland setting with farmland around it and is a tranquil last resting place.  The site was one of several possibilities considered and for a while it was considered to be too far out of town.  However, for various reasons, none of the other options was taken up and so the present cemetery became the official one.
The Past
The history of the Cemetery goes back to 1881, only a few years after the selectors arrived, when a meeting was held on March 19, and it was decided to establish a cemetery. A grant of 20 pounds was received from Public Works Department for fencing the cemetery. Between 1889 and 1946, there were thrity-one recorded burials. After 1946 it was generally believed that the cemetery was closed, and it fell into a sad state of neglect. Around 1963 a new fence was erected, thanks largely to money left for maintenance by the late John Rathmann. From 1963 to 1998 little maintenance was carried out and the cemetery once again descended into a state of neglect. Up until 1998 trust meetings were held irregularly. Sometimes three in one year, then a five or ten year break, and even longer after 1947 when it was fifteen years.
In 1998 after the government had gazetted that grave sites were still available and that the cemetery had never closed, the caretaker-secretary had numerous enquiries about purchasing grave sites. A meeting was called to elect a new body of trustees.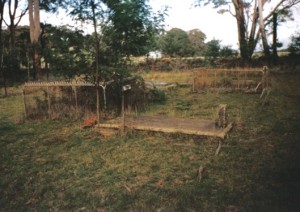 Strathbogie Cemetery 1996
Over the years some of the earlier records have been lost and many of the graves are unmarked. The Strathbogie Cemetery Trust  invites anyone who has information or knowledge of any history of this cemetery to contact us.
The Present
Burials resumed in 1998 and, thanks to the commitment of a small group of volunteers, the cemetery is once again picturesque and an inviting place to visit.
Regular working bees are held followed by a cuppa at the cemetery.  All are welcome to attend. Further historical notes can be viewed on the noticeboard at the cemetery.
For general enquiries call:
The Secretary Michael Flatt 0409031516  or  Ray Flynn   03 5790 5385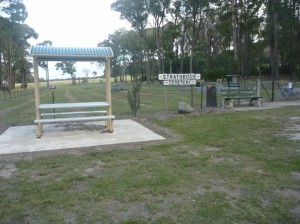 Strathbogie Cemetery 2012