On the Strathbogie Tableland, a group of creative friends who live locally meet regularly to share ideas, knowledge, skills and experiences in an informal and relaxed setting. These women come from diverse backgrounds and cultures, bringing ideas from different parts of the world and from areas within Australia. Our medium is sewing, quilting, crocheting, patchwork and any other handcrafts of interest to members. Most of us are novices and are learning from each other, and enjoy ourselves immensely.
We have worked on several group projects with great satisfaction.These projects helped to connect our activities with other people in our community such as the students at the local primary school and the residents at nursing homes in Violet Town and Euroa. We have organized and conducted a quilt exhibition at the Strathbogie Memorial Hall with the help of other willing district residents and the Committee of Management of the hall. The quilts and waggas exhibited had been made by people associated with Strathbogie both past and present, and each quilt or wagga had the printed story attached, of the life journey, or history, of that particular maker.
We have made colorful, half metre square banners or small quilts, each depicting a letter of the alphabet or a number with embellishments of objects related to that particular letter or number, as an elaboration or explanation. These banners when hung side by side to decorate the hall interior, can be used to spell out the words representing the particular event or activity taking place such as the annual Summer Festival or the Primary School Christmas concert. These banners which are the property of the Memorial Hall, are also available on loan for use by district residents for other functions such as public demonstrations, parades or markets.We have had the support of the local community through gifts of fabrics and other materials, through their interest and encouragement and through offering their workrooms or common space as a venue for our meetings.
We extend an invitation to join us, to anyone who is interested in participating. You would be most welcome. To contact us please telephone the Shire of Strathbogie (5795 0000, or fax 5795 3550, or freecall 1800 065 993) for contact telephone numbers and/or addresses.The photograph (attached) was taken at the Strathbogie Tableland Summer Festival in January 2008 and portrays the Strathbogie Tableland sewing group members with their Strathbogie quilt. To make this wall hanging each member designed and fabricated their own section, to represent their personal concept of the landscape and the natural and human features of the Tableland. Anna Reyneki designed and planned the total layout of the quilt by making many of the fauna and flora panels, by joining all the pieces together, then finally quilting together the three layers and completing the edges.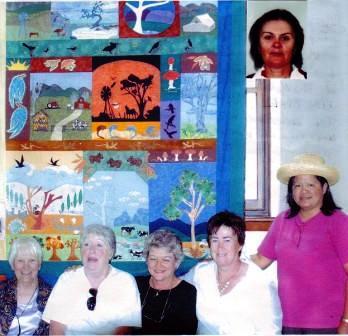 Pat Dwyer, Chris Brell, Anna Reyneki, Jenny Frigo (who sadly passed away in 2010), Mely Short and Jenny Walker (inset). Not photographed are Jill Smith and Tricia Brownlee
The Strathbogie material girls are seeking more members to join the group.   We do interesting projects with quilting and patchwork. But if you are not a quilter, bring along whatever sewing or hobby you practice and come and share a cuppa with us.
We meet every Wednesday from 10am until 3pm at the local recreation reserve.
For more information phone Anna at 57905136.
This beautiful quilt was created and auctioned for the children at the school.