The Strathbogie Recreation Ground (fondly known as The Rec) situated on Spring Creek Road, is the home of the local tennis courts and oval. The club rooms provide a valuable venue for social gatherings.
For enquiries and bookings contact Kim Usher- 5790 5345.
The Rec is currently the home of:
SCOFF (Strathbogie Community of Food Finders) – meet on Sunday fortnightly;

Sunday Soccer – meet before SCOFF in winter months;

Social Tennis;

Occasional Cricket
It is the site of former glory days of the Strathbogie Tennis, Cricket and Football clubs.
Thursday Night at the Rec is back…
The new season begins! All are welcome to come along and watch the clouds roll by.
Of course we will stock all of your old favourite beverages including:
various wines and spirit drinks
locally sourced apple cider,
free soft drinks for the kids
a selection of Coopers and Carlton United beers
crafted beers from the Strathbogie Brewery available on tap
water is available on request
The Bogie tennis group meet for a hit if you like a game of tennis.
Here are a few pictures from days gone by…
 Sunday Soccer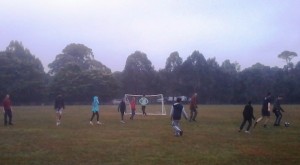 Soccer began again at the end of May. Fourteen players of mixed vintage and two spectators spread the traditional  warmth for the first session of Bogie Sunday soccer, even as the rain came down. It was great to see a few of the old originals hard at it. (We love Squiz's economy of effort in the goals.)
  Future games to be held 2nd and 4th Sunday of the month at 3:00pm.
Strathbogie Tennis Club
Although the club has had an illustrious history and played a major role in local competitions it is struggling for membership at the moment.
The synthetic courts are excellent and provide all weather access.
Strathbogie Football Club
Click on the following links to read the articles published in the Euroa Gazette regarding the Reunion Dinner held on November 8th 2008.
Strathbogie Cricket Club
The cricket club has also had an illustrious role in Strathbogie's sporting history.