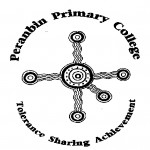 Campus Co-ordinator:      Eron Chapman
Address:      Main St., Strathbogie, 3666
Phone:         03 57905250
E:mail:    peranbin.pc.strathbogie@edumail.vic.gov.au                               Website:  http://www.peranbinpc.vic.edu.au/
Peranbin Primary College is a multi-campus primary school with current campuses in Strathbogie, Violet Town, Swanpool and Baddaginnie.
---
ANZAC DAY IN STRATHBOGIE
Date: Friday April 22nd
Time: 10:00 a.m.
Strathbogie Campus, Peranbin Primary College are proud to be holding a commemorative event at the Strathbogie Hall for ANZAC day.
Local RSL members will be in attendance and providing a guest speaker.
The children will be sharing their insights and responses to learning about ANZAC day.
Please accept our invitation to join us on this day for the ceremony and morning tea afterwards.  If you wish, you may join the children in laying a floral tribute at the feet of the memorial statue in Main Street, Strathbogie.
Helen Eadie
Strathbogie Campus
---
Strathbogie campus currently has 23 students and two teachers, Helen Eadie and Ben Moyle. We also have a shared Principal, a Music, Art and PE teacher and fortnightly visits from the mobile library.
literacy is the key to all learning and is a major focus in every classroom
our hands-on numeracy activities are an integral part of our daily program
our students are explicitly taught the social and emotional foundations and core values which lead to success in life through the Bounceback! program
a love of reading and the enjoyment of books is an important part of our teaching at Strathbogie
Libby is our library teacher. She comes fortnightly and the children borrow books. Libby conducts a writers camp each year for students in years 5 and 6. She also runs a Children as Authors competition which is judged by the year 6 students at Yea
our school has a strong focus on the importance of physical health and well being
our music and art program allows students to become creative and expressive individuals
we believe that a love of the environment is important. Students learn a responsibility for the environment through caring for animals and we have some beautiful chooks which we hatched in an incubator
classrooms are well equipped with laptops and ipads
we have a a comprehension Physical Education Program with students exercising daily. Our students participate annually in swimming, cross-country and athletics.
junior students have senior room buddies to ensure a smooth and happy transition into school
students are involved in programs such as recycling, composting and Landcare
our school initiates and is involved in many community activities such as Landcare tree planting, Anzac Day and 'Clean Up Australia' Day
we have a resident koala in our "koala tree" and if the season is suitable she has a baby.
The Peranbin Primary College Cookbook, Delish, is still available.  With more than 140 recipes submitted by students, families, staff and friends of the 4 Peranbin communities, Delish is sure to become your go to cookbook.  From pumpkin scones to gyoza, Delish will satisfy your culinary desires.
Not only do you get a great cookbook but also an enjoyable read of the histories of the four school communities as well as photos dating back to the early 1900s through to today. Delish is the perfect gift for only $30 and can be purchased from the Strathbogie School and General Store. All profits from the sale of Delish will  go towards whole school programs and initiatives.