There are many attractions for visitors to the Strathbogie Tableland, ranging from:
fishing
swimming in local creeks and Polly McQuinns
mountain biking
horse riding
playing golf, tennis or badminton
visiting local gardens and nursery (check Coming Events for dates and locations)
visiting the local historic cemetery
visiting our local church
birdwatching visiting the old crystal and gold mines
staying in a bed and breakfast visit local markets at Tatong (1st Saturday of the month), Violet Town (2nd Saturday) ad Euroa Farmers Market (3rd Saturday)
If you are moving up here, think about joining a book club, garden club, Landcare or Seedsavers group.
Open Gardens
There are two local gardens that periodically open to the public
Sunnymeade  The Sunnymeade Gardens are one of Australia's best-kept secrets.  With a backdrop of granite outcrops, diverse forests and fern gullys, waterfalls there is plenty of native wildlife in their natural habitat.  or visit facebook Sunnymeade Garden Kithbrook
Forest Hills @ Eloura Park This beautiful garden was created over many years by Helen and Ken Dunnachie. It is now being revitalised by new owners Leanne and Les Margrie.
Polly McQuinns: swimming, picnicking, barbecues
The picturesque Polly McQuinns is located on Seven Creeks. It is 4km south-east of Strathbogie and comprises a reservoir, weir, bridge, and a pleasant area around the water. Once a natural creek and large deep-water pool, the creek has been dammed on the northern side of the road, creating another large waterbody. The dam is a three-sided concrete weir (1920-30s) with a brand new bridge. To reach Pollys, travel south through the township, go over Smiths Bridge and take the next road to the right, signposted "Polly McQuinns".
The water spills over the concrete weir wall, under the road bridge, over large exposed granite boulders and across a natural spillway into the deep-water pool. The two distinctive water features and rocky spillway create an attractive place for picnic and walks. The deep-water pool is fringed with reeds and trees, and there are picturesque rock groupings and cascades.
Below the dam is Victoria`s most secure habitat for the endangered trout cod.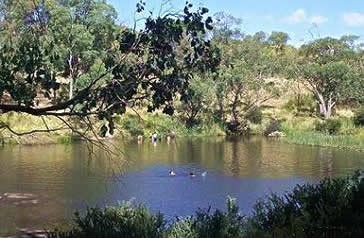 History: The weir takes its name from Polly McQuinn, an early settler who lived in the area. He was allegedly named Polly because he could not grow a beard. Local lore has it that when he was driving home in his horse and jinker one night he missed the bridge, fell into the water and drowned. There is a rumour that the waterhole is bottomless which is why no trace of him or his horse was ever found.
It has always been a popular swimming and picnic spot and in the 1920's regular carnivals and school swimming sports were held there.
Mt Wombat Lookout
Mt Wombat Lookout offers excellent 360 degree views of the area from the plateau on top of Mt Wombat (799 m). The story goes that you can see one quarter of Victoria from the summit. The Waranga Basin and Nagamie Weir are both visible from the lookout.
It is reached from the Euroa-Strathbogie Road. The turnoff is signposted and the road allows you to drive right to the top. Alternatively, you can park half way up and enjoy a very pleasant walk to the summit. There are picnicking spots along the way. The road back to Strathbogie winds past the tranquil Strathbogie Cemetery.
During summer it is used as a fire lookout with a person employed to be on fire watch during periods of fire danger.
Bridge to Bridge Walk
This is a short easy walk on a clear walking track through reinstated native woodland behind the township of Strathbogie. It runs between the two main bridges leading in and out of Strathbogie, north and south.
It is a project of the Strathbogie Landcare Group using funding assistance from the Goulburn Broken Catchment Management Authority and an Envirofund Grant. The clearing and revegetation work has been done by the Landcare Group, local landholders and many volunteers including the local school students.
It was previously a weed-infested riparian zone and now is a viable habitat for indigenous animals and flora.
Gooram Falls
The Gooram Falls is a beautiful place to visit for a swim and picnic during summer or to rug up in winter and enjoy the views of the rockpools and water cascading over the rocks.
The Gooram Falls are west of the Strathbogie Tableland, on the Euroa-Mansfield Road. 2WD access to the carparks is fine all year round. If travelling from Strathbogie follow the road to Polly McQuinns down to the Euroa-Mansfield Road. Turn left to Merton and look out for the 2 signposted entrances to the falls on your left.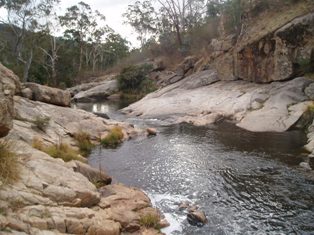 Rocky Ned
Rocky Ned is a rocky outcrop very popular for abseiling. The Rocky Ned creek is also a beautiful water course, weaving past rocks with rock pools, falls and shady tree fern glades. Rocky Ned is only accessible by 4WD or on foot. It is located on the east of the Tableland.
Old Mines
The crystal mine and gold mines of Tallangalook are popular tourist attractions on the Strathbogie Tableland.
The Crystal King mine, which mined quartz crystal for piezo-electric applications used in radio transmitters, was first operated in the 1940's. The largest hand-cut crystal in the world was found here and is now held at the Melbourne Museum. Around 1990 mining commenced again but for only a short period of time. Fossicking around the area can yield some small crystals.
The gold mines were worked by hundreds from the 1860's for some years and then by a smaller population for a further twenty to thirty years. Again, in the last thirty years, mining companies have conducted tests to see if it would be a viable operation to begin mining there, but no one has done anything on a large scale since. Tallangalook is now a declared Heritage area.
The early gold mining required heroic efforts. Much of the work was done using high pressure water sluices driven by big steam boilers. All equipment had to be brought up on horse-pulled wagons and assembled on site. The high pressure hose is reported to have killed at least one unfortunate miner who walked in front of it. A deep ferny gully is all that remains of a huge gulch known as Hells Hole. Most other mining was done by digging tunnels.
The mines are located east of the Tableland. Four wheel drive may be advisable in wet weather.