When the selectors arrived in 1877, they brought an end to the massive land holdings, for but a few. From 1842 squatters took up large tracts of land in the rugged Strathbogie Ranges and ran thousands of sheep and hundreds of cattle.
The stations, Bailey Hill, Strathbogie, Springs A and Wombat Hill were situated in the hill country with portions of Saintfield and Borodomanin also in the ranges.
One squatter yet to be forgotten, is John Kissock of Strathbogie Station. When he left the district in 1857 after a ten year stay, he left his wife Agnes, buried in a substantial stone walled grave on the property that same year. The dry stone wall stands as he left it, all those years ago.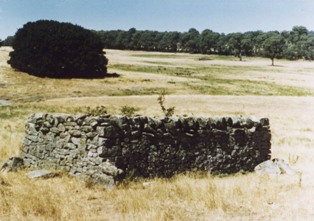 Two other gentlemen well remembered are John Gall of Wombat Hill, as he was the only one to live the rest of his life in the area, although on the flat country, and William Forlonge.
William Forlonge owned all five first named stations at the one time, being a total of 185,000 acres as well as five other stations in Victoria, from the early 1850's to 1867.
With families arriving and settling on their various sized block of land, a need for some civilisation was required. Schools, churches, post offices, blacksmiths, a hotel, halls and a general store were first requirements and soon sprang up over the Tableland. Later a baker, butcher and butter factories, as well as sporting facilities for football, cricket, tennis and golf were added.
Selectors generally came from the Whittlesea and Geelong area to Strathbogie, with Adam Gall Smith being recorded as the first. Some of the other early families who selected land were – Armstrong, Beattie, Hill, Hobbs, Johnston, Mackrell, Moore, Morley, Simpson and Smith.
In 1879 Strathbogie State School No. 2181 opened with forty five pupils on the roll. Other schools soon opened within the area, being only a few miles from each other. Post Offices were as numerous as schools.
The first church, Wesleyan/Methodist, was built at Strathbogie West but later movedinto the township, where the Presbyterians had built theirs.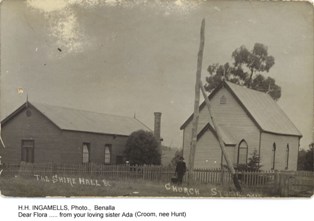 Strathbogie North boasted a school, hall, blacksmith, creamery, rifle range and race track at one time. Strathbogie West had a hall, school, tennis court and golf links.
Entertainments were sports picnics which would draw three to four hundred people and afterwards a dance would be held in the local hall until daylight. Trips to Euroa were not everyday; they were once a month, sometimes twice, and often the children did not go.
In the early days dairying was big business. In 1891 a butter factory was built in the township, then known as Strathbogie South, and a factory was built the following year at Strathbogie North. Soon after, Strathbogie township factory was handling 1,500 gallons a day and in the first year, 13 tons of butter was exported from the factory. Butter from the North factory was also exported and gained top prices in London. The township factory was burnt down in 1907 and rebuilt, but in 1936 when it suffered the same fate it was not built again as the home separator and the growth of sheep farming had detrimental effects on dairying and butter factories. As dairying faded out sheep flocks were built up over many years and with careful, selective choosing, Strathbogie wool proudly became one of the best in the world.
Times gone by
There is a set of historical photos hanging on the walls of the supper room in the Memorial Hall. They give an insight into life in this small rural community in times gone by.
The Blacksmith's Shop
While most of the people and buildings are long gone the "Blacksmith's Shop" remains. The Strathbogie Blacksmith's Shop was built c.1892 by the blacksmith John Metzke. It is of local stringybark timber, with uprights of split logs and hand-cut pailings slipped down horizontally into grooves of the upright supports. The roof is of galvanized iron.
A large and almost complete set of blacksmith's tools including tongs, hammers, moulds
and woodworking tools (many handmade) associates with the building: so too the bellows and forge, which are operational and have an elaborate cooling system made of copper.
Change
A communication boon was the telephone which arrived in the hills, about 1912. When Strathbogie was added to the state electricity grid in 1966 it heralded a new era.
Towards the end of the twentieth century, change was once again occurring, when sheep were making way for vineyards and other activities.What were once family holdings have been subdivided into smaller lots. Families have moved on and new families have come. The store has changed hands many times after 47 years of Mr and Mrs Ambrose Levey's ownership. The golf club has moved and what a story is attached to that job! A devastating bush fire in 1990 did much damage and memories of it linger. Some groups have gone into recess while others have begun.
New roads and new bridges have replaced the old ones meant for horse and cart, so now, instead of the railway line that was lobbied for over many years, semi trailers take farmers' produce to town with ease.
Telephones that we take for granted and other up to date communication – Internet, television and the newspaper delivered daily – are a far cry from the early pioneers' day of no electricity, no radio, mail and bread delivered twice a week, with any milk deliveries coming straight from the cow and fresh fruit and vegetables picked from the garden.
---
THE PIONEERS ARE PASSING W.V.
(Wilfred Vroland)…..in "Euroa Advertiser" 1938
They came when their vision of life was young,
When to them the world was wide,
And the strength of their bright young manhood flung,
At the hills of the Old Divide.
They hewed for them homes on the wooded slope,
In a world that was new and strange,
But ever the star of a steadfast hope,
Shone high o'er the granite range.
And the women they cherished were there to aid,
In the frost and the winter sleet,
And the bushfires found them still unafraid,
In the smoke and the stifling heat.
And now they are passing on one by one,
Yet as stars in our memories shine,
They have finished their fight, and their race is run,
These fathers of yours and mine.
But they gave us a heritage greater far,
Than the mountains they toiled to tame,
For they left us the light of a guiding star,
And the pride of a glorious name.
Depressions, disasters have come and gone,
But the blizzards of fate still veer,
God give us the courage to strive, strive on,
With the heart of a pioneer.