Strathbogie Tableland Landcare Group
Landcare Groups and their activities
Landcare has been operating for more than 20 years in the Strathbogie Shire and has a wide following of all types of landowners from town block size to thousand-hectare properties and from full-time locals to weekenders.
Landcare is not a government organization; it is developed by the community for the community.   Landcare groups in various regions may have different priorities and projects to reflect the interests of their specific community.
There are 14 Landcare groups that operate within the Strathbogie region all of which are serviced by a Landcare Facilitator whose responsibilities include assistance with funding applications, guest speakers, information re local and regional priorities, etc.
Landcare can assist you with funding for your environmental works such as planting, weed and rabbit control, as well as give you information on priorities and projects for your particular region.
It also gives new landholders a network to talk to other local landowners with similar interests on environmental issues along with issues that are affecting the community.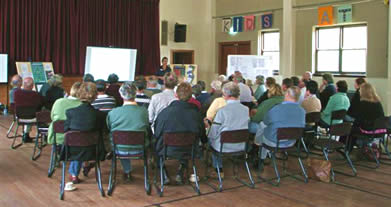 Strathbogie Tableland Landcare Group Inc
Landcare on the Tableland started in the late 1980's. Our current group, Strathbogie Tableland Landcare Group (STLG), was reformed in August 2005 and currently has about 50 member properties.  It is an incorporated body insured through the VFF Farm Tree and Land Association.
STLG activities include  revegetation, weed and rabbit control, field days, walks, meetings, guest speakers etc.
2015/16 Committee
President:   Bertram Lobert       5790 8606, 0409 433 276
Secretary:   Sean Mathews       0400 019 607
Treasurer:   Julian Trescowthick 5790 8608
Committee:
| | |
| --- | --- |
| David Jamieson | 5790 5236 |
|  – | |
|  – | |
|  – | |
|  – | |
The Committee meets bi-monthly on the first Sunday of the month, 9 am, in the Soldiers' Room, Strathbogie Memorial Hall.
Landcare Membership
An annual membership fee of $10 is all that is required to join STLG. Membership includes a Strathbogie Tableland Landcare gate-sign for your property (all claimable business expenses).
The total amount can be paid either by cheque or direct deposit to:
Strathbogie Tableland Landcare Group BSB 803078 Account No. 1008 1991 using your name as reference and notifying any of the Committee Members.
Granite Creeks Project Inc
STLG is a member of Granite Creeks Project Inc which is a network of six Landcare groups (Burnt Creek, Balmattum Sheans Creek, Gooram Valley, Longwood East, Creightons Creek and Strathbogie Tablelands).  It is incorporated, registered for GST and puts in funding submissions on behalf of many of the groups.  Granite Creeks Project Inc meets quarterly to discuss local and regional issues and project submissions.
Strathbogie Tableland Landcare Group – Current Projects
Alternate Fertiliser Trials – A range of fertiliser companies received preliminary soil test results and information about the alternate fertiliser trial plots via Landcare Coordinator Kerri Robson. Interested companies have now responded and been selected, so the alternate fertiliser trial is underway.
Eight alternative products have been included. All are popular brands representing the likes of rum, nutrisoil, seasol and a granular superphosphate based product. Plots are available for three to four additions if appropriate new products come on the market within the next twelve months.
Each plot consists of 0.6 ha, in a 6 metre wide strip, with a surrounding 2 metre buffer zone. These were spread or dusted over 2 days and a control strip, with a 10 metre surrounding buffer zone, was left untouched.
Why not join us?   We enjoy the work, good company and the rewards of helping the environment! Contact any committee member above.
Magiltan & Spring Creeks weed control – in Spring 2016 we'll be starting a weed control program along these two creeks (upstream of the township). Blackberry and Holly have become well established along parts of the creek and require removal.
'Friends of Bridge to Bridge' – this sub-committee of the STLG manages the Bridge to Bridge walking track 'behind' Strathbogie Township, between Smith's Bridge and  Spring Creek Bridge. Working Bees are every fourth Sunday of the month from 0900-1100am, meeting at Smith's Bridge. All welcome. Read about progress on the Strathbogie Ranges – Nature View Blog. More detail on the FOBB page.
'A Guide to Achieving Water Quality and River Health on the Strathbogie Tableland' – STLG recently launched the group booklet  (approximate project value:  $2,500).
Strathbogie Nature Atlas Project (SNAP!) – a community project for collecting and documenting local biodiversity information. For further details click SNAP!, or visit the Strathbogie Ranges Nature View Blog. Many of our Landcare activities also align with the objectives of the Strathbogie Ranges Conservation Managament Network.
Riparian Health – the group has managed several projects focused on maintaining healthy riparian zones for habitat, biodiversity and maintaining water quality (approximate project value:  $30,000).
The Seven Creeks Action Plan – a series of Fact Sheets outlining proposed management of Seven Creeks from Strathbogie Township to Polly McQuinn's Reservoir: Introduction, Project Area, Creek Values, Threats, Works Program.
Community Events – Our group regularly contributes to local community events such as the Strathbogie Summer Festival and the 535 Music and Arts Festival.
Schools, tree planting & other activities – Students from several schools including Northcote High, Goulburn Valley Grammar and of course Peranbin Primary College have assisted with tree planting and other environmental activities. Click photo for a larger image and then click start slideshow
[AFG_gallery id='9′]
STLG Newsletters
Click on the links below to read the STLG newsletters old & new or to learn about coming events.
To view the Victorian Landcare Newsletter click on the link below.
http://www.dse.vic.gov.au/victorianlandcaremagazine